Video Seminars
ZHealth Publishing's video seminar is a great option for those unable to attend our live seminars. View our high quality video recordings from the first live seminar of 2022. These video seminar sessions, broken down into 1.5-hour videos, cover all the new codes and allow you to enjoy the same remarkable teaching from Dr. Z, Dr. Dunn, Jeff Majchrzak, and Sara Wolf, while gaining the same number of CEUs from the convenience of your own computer. For those too busy to travel or looking for an economical alternative to our live conferences, our video seminars are a great solution.
The expiration date varies by course. Please check each individual video seminar product page for the expiration date. You can also locate the number of days remaining in "My Video Center" after redeeming the course into your account.
Save $100/day off the live seminar cost ($50/day off for the half day sessions)
Earn up to 35.5 AAPC CEUs (all of which are CIRCC-approved by the AAPC), 30.5 ASRT CEUs, or 38 AHIMA CEUs
ZHealth Online Members receive 10% off all video seminars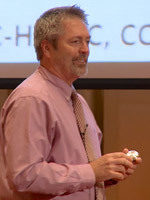 This three-part session focuses on basic catheter selection coding. It is intended for newcomers, but is also useful for intermediate coders.
View Product