2021 - Dialysis Access Coding
2021 - Dialysis Access Coding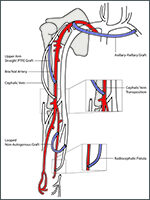 This webinar covers creation, assessment, and maintenance of dialysis grafts. It includes anatomy, discussion of the different types of shunts and fistulae, and the most frequently utilized percutaneous and open interventions, including venoplasty, stent placement, and embolization. Central venous access procedures are also fully reviewed. Please note that this webinar expires on 12/31/2021.
(CEUs: AAPC - 2.0, AHIMA - 1.5)
*Only one person is eligible to receive CEUs per webinar purchased. For multiple user access, please enter the desired quantity before checking out and completing the order. The volume discount is applied in cart. (Additional copies are no longer purchased from your dashboard.) Please refer to the Pricing/Volume Discount page for more information.
Features
Covers creation, assessment, and maintenance of dialysis grafts
90-minute presentation accessible via computer, at your own pace
Led by expert physician coder Dr. Dunn
10% discount for ZHealth Online members
Earn CEUs and learn more about coding without incurring travel costs
CIRCC Certified

Webinar Expiration Date: 12/31/2021