2023 - Peripheral Vascular Diagnostic and Interventional Coding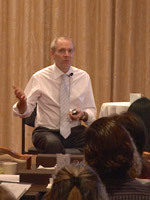 2023 - Peripheral Vascular Diagnostic and Interventional Coding
This nine-part video seminar session covers a "best practice" scenario for coding and billing vascular procedures. There is a review of terminology, devices, anatomy, and physiology pertinent to the vascular system. Throughout this seminar session, we focus on CPT coding specific to endovascular diagnostic and interventional procedures.
Catheter placements and diagnostic angiography of the arterial, venous, portal, and pulmonary systems are thoroughly discussed. Interventional procedures in the vascular system that are reviewed include but are not limited to the following: central venous access, IVC filter placement, foreign body retrieval, venous sampling, angioplasty, atherectomy, stent placement, stent graft placement, EVAR, TEVAR, and FEVAR, thrombolysis and other infusion therapy, embolization, thrombectomy, dialysis intervention, TIPS, and neurointerventional procedures. Over 100 case examples with complex coding are reviewed, covering diagnostic imaging to the most complex neurointerventional and peripheral interventional procedures performed in the angiography suites today.
(CEUs: AAPC - 14.0, AHIMA - 15.0, ASRT - 15.0)
Please note that due to the large video file sizes, it may take anywhere from 15 seconds to several minutes for the video to load. Please also try a different browser if experiencing difficulties.
Expiration Date: 12/31/2023