2023 - Coding for Cardiovascular Procedures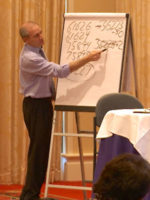 2023 - Coding for Cardiovascular Procedures
This five-part video seminar session is a detailed discussion of diagnostic and therapeutic cardiology procedures, including the specific rules regarding the coding of angiography, coronary arterial and cardiac chamber interventions, diagnostic and therapeutic electrophysiology procedures, and pacemaker and ICD procedures. There is also a brief overview of peripheral vascular procedures performed in the cardiac catheterization laboratory during or separate from a cardiac catheterization, as well as a review of pediatric congenital heart catheterization procedures and interventions.
**Those involved with peripheral interventions performed in the cath lab should consider also watching one or both of the following sessions: "Peripheral Vascular Diagnostics and Intervention" and "Coding Basics for Vascular Coding", as peripheral vascular procedures performed in the cath lab are only briefly discussed in the cardiology/cardiovascular session.
(CEUs: AAPC - 5.5, AHIMA - 7.0, ASRT - 7.5)

Please note that due to the large video file sizes, it may take anywhere from 15 seconds to several minutes for the video to load. Please also try a different browser if experiencing difficulties.
Expiration Date: 12/31/2023