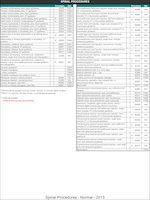 Charge Sheets
2021 Charge Sheets available now for immediate download!
ZHealth Publishing's charge sheets make coding and charging more efficient and accurate than ever. Significantly reduce time spent identifying charges and never create your own charge sheets again.
ZHealth Publishing's set of twenty-one detailed charge sheets includes charge codes, coding tips and guidelines, and symbols to indicate add-on procedures and inpatient-only procedures. Save the PDF charge sheets locally on your workstation or print out for easy access.
These charge sheets, updated annually, are created by Dr. David Zielske and Dr. David Dunn—both physicians and nationally recognized coding experts in the disciplines of interventional radiology, cardiology, and vascular surgery. A link to a downloadable PDF of twenty-one charge sheets will be made available upon purchase. Save time and order your 2021 charge sheets now.
AMA Royalty: As the AMA owns the copyright for CPT codes, ZHealth Publishing pays a licensing fee to use/reference this material in our products. This is the 'AMA Royalty' charge you will see added in your cart - it is $17 per set. The new expense is to cover AMA royalties, but the set is still $55.


Features
Charge Sheets Include:
Aortic Stent Grafts – (e.g., open endovascular procedures, stent graft procedures)
Arteriiography & Revascularization – (e.g., diagnostic arteriography, endovascular lower extremity revascularization)
Other Arterial Interventional Procedures – (e.g., embolization procedures, infusion therapy)
Central Venous Access - Group 1 –
Central Venous Access - Group 2 – (e.g., catheter declotting procedures)
Venous Procedures – (e.g., diagnostic venography, venoplasty, interventions)
Biopsy & Ablation Procedures –
Drainage Procedures – (e.g., percutaneous abscess procedures, chest drainage procedures)
Spinal Procedures - Group 1 – (e.g., spinal procedures)
Spinal Procedures - Group 2 – (e.g., implantable intrathecal or epidural catheters and pumps, destruction by neurolytic agent)
Non-Vascular Procedures - Group 1 – (e.g., biliary procedures, urinary procedures, gastrointestinal procedures)
Non-Vascular Procedures - Group 2 – (e.g., breast procedures, gynecological procedures, joint procedures)
Cardiac Catheterization & Coronary Interventions – (e.g., cardiac catheterization procedures, ventricular assist device, coronary arterial interventions)
Other Cardiac Procedures – (e.g., ventricular assist device, valve procedures)
Pacemakers & ICDs –
Electrophysiology & Echocardiography –
Vascular Procedures - Group 1 – (e.g., thrombectomies and repair of thoracic aortic aneurysm)
Vascular Procedures - Group 2 – (e.g., endarterectomies and repair of blood vessels)
Vascular Procedures - Group 3 – (e.g., bypass grafts)
Vascular Procedures - Group 4 – (e.g., hemodialysis access)
Vascular Procedures - Group 5 – (e.g., amputations and fasciotomy)