PRE-ORDER ICD-10-PCS Coding Companion for Interventional Radiology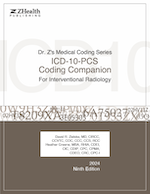 Dr. Z's ICD-10-PCS Coding Companion for Interventional Radiology, written by coders, for coders, is a comprehensive manual that details the appropriate ICD-10-PCS coding for simple and complex interventional radiology procedures. This book provides illustrations, extensive coding tips, and procedure descriptions to help the coder understand the objective of the procedure in order to select the appropriate root operation and complete ICD-10-PCS procedure code. The information is conveniently laid out by procedure type and anatomical site.

The ICD-10-PCS Coding Companion for Interventional Radiology is the only source you need to appropriately code inpatient interventional radiology procedures. Order yours today and stay informed about the complex world of interventional radiology procedures performed in the inpatient setting.
Product # 2420e (eBook)
Features
Written by coders with over thirty years of coding experience who also teach ICD-10 coding

Covers both vascular and non-vascular procedures

Includes extensive information about coding rules for ICD-10-PCS codes (only PCS is covered)

Presents information by procedure type and anatomical site

Addresses procedure coding rules for inpatient hospital encounters

Provides procedure examples to demonstrate the coding guidelines and nuances more clearly
Errata
When changes in coding rules or editorial errors occur in Dr. Z's Medical Coding Series, we publish the necessary revisions on our website as errata. Please check this at least quarterly to ensure coding compliance.
Previous Editions
Previous Editions
Coding audits of old cases occur frequently, both internally and externally. Therefore, we make our coding references from past years available for purchase so that the appropriate year's coding rules may be applied accordingly. It is essential to utilize information that applies to the date a procedure is performed. For example, when auditing a case from last year, you need to use last year's reference. Please note the importance of current references, as every year there are changes in codes as well as the rules surrounding their use.
View previous editions
Only last year's eBooks are available on the website. For a hard copy or eBook of previous editions, please call ZHealth Publishing at 615-873-1111.
Already Purchased the eBook?
Please log in and go to the 'My eBooks' section, where you can download the appropriate eBook file and then enter your activation key.