CIRCC Study Guide - 2023 Edition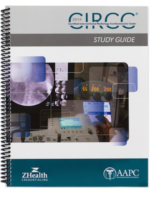 The CIRCC Study Guide, now updated for 2023, is an invaluable training tool for the CIRCC exam. ZHealth Credentialing developed the CIRCC Study Guide in concert with the AAPC. This study guide condenses the information that will be covered in the exam into a less than 200-page reference.
While it does not replace the comprehensive Dr. Z's Medical Coding Series, the CIRCC Study Guide takes key information from these manuals and presents it in an easily digestible bullet point format. It includes an overview of the CIRCC exam (requirements/test details), terminology to study, basic procedure coding rules, and procedure codes and guidelines. Essentially, it is a "pocket guide" for cardiovascular and interventional radiology coding.
The CIRCC Study Guide includes extended practice and testing material to help users study for the CIRCC exam. Sample cases to code and practice questions are now in Two Appendices: Appendix A consists of 40 multiple choice practice questions and answers, and Appendix B consists of 39 sample cases to code with answers and explanations.
Please note: As the CIRCC Study Guide is not exclusive to ZHealth Publishing, the membership discount does not apply.

If you are taking the CIRCC exam in 2023, the CIRCC Study Guide will fully prepare you. Order your book today and be ready for the exam!
Features
Test cases (with answers and explanations) and practice questions (with answers) now included

Developed by ZHealth Publishing and the AAPC
Includes an overview of the CIRCC exam -- types of questions, references allowed, time allotted, and requirements to take the exam
Contains terminology to study for the exam
Covers basic procedure coding rules
Outlines procedure codes for each type of procedure and the specific coding guidelines for those codes
Spiral bound book, printed in black & white
Errata
When changes in coding rules or editorial errors occur in the CIRCC Study Guide, we publish the necessary revisions on our website as errata. Please check this at least quarterly to ensure coding compliance.